This application note shows how fan-coil control and lighting can be controlled using a single device to maximize energy savings.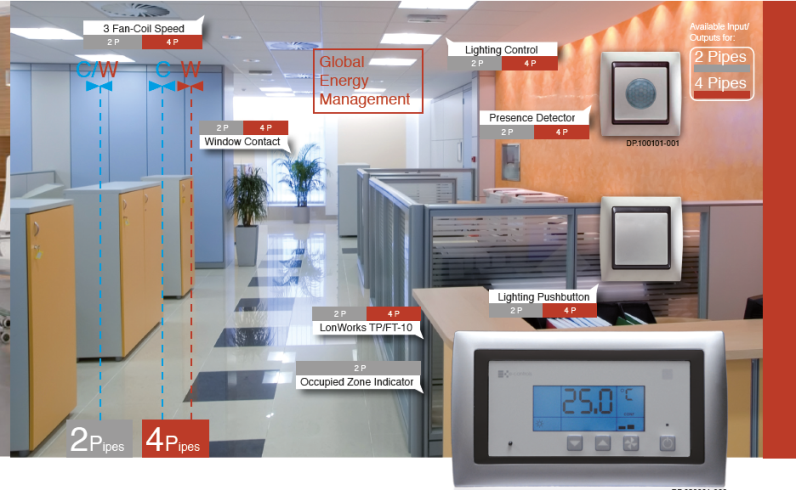 In office installations the zone HVAC and lighting systems is controlled by the device depending on the occupancy status. When the motion detector is detecting occupancy, the device turns to enable
mode, allowing the user to connect the HVAC system and change the setpoint as desired. When the zone is occupied the lighging output turns to on and turns it again off after some time from the last movement detection.
The user can also manually turn on permanently the light using a wall switch actuator. When the zone changes to unoccupied, the HVAC system turns to off or to low consumption mode, depending on the
configuration previously downloaded. Opening the window stops the HVAC system temporarily, activating it again when it is closed. The device can be configured for 2 pipes or 4 pipes system. In 2 pipes
system the Occupied Zone Indicator output shows the zone occupancy status. The HVAC system is directly controlled through the device pushbuttons, or it can also be remotely controlled through its standard communication bus and do automatic switch on/off programming functions, change operation mode or setpoint through an external real time clock event. The device includes remote control mechanism that enables the keypad blocking to avoid the user manipulate the operating through it.
Main features of this application note:
2 Pipes / 4 Pipes systems
Motion detector HVAC and lighting control
Window contact stops operation
Pushbutton and lighting control output
Occupied zone indicator
Remote control through LonWorks® network