E-Controls adapts the motion and light sensor to control any type of LED lamp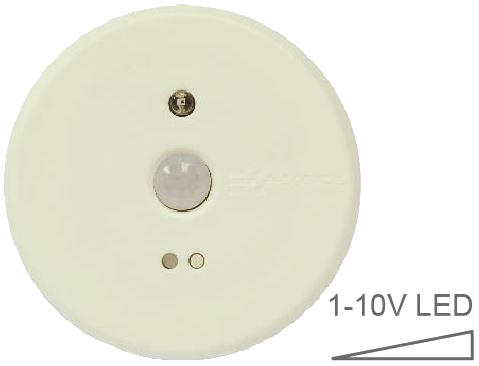 18/10/2017
E-Controls has released a new version of the light and motion sensor called e-Multisensor AutoDim 1-10V, to control any kind of LED lamp in the market, manufacturer independent, adding new functions that make it more versatile and flexible.
In the recent years, the increment of LED light dimming manufacturers has grown exponentially and consequently, different operating behaviours between them. Anyone can find in the market LED lamps that switch off the lights when it is dimmed at a minimum level, other models that keep the lights on when light is decreased at a minimum value and others that the light flickers at that level. This makes in most cases the lighting control quite complex when the customer requests an optimum result.
The light and motion e-Multisensor AutoDim 1-10V is an stand-alone device with an integrated constant light control system that takes the advantage of the natural light inside the building, and dimming consequently the light to save as much energy as possible.
To avoid any problem with the behaviour between lamps when they are dimmed at a minimum level, the multisensor includes a new functionality to adjust the minimum level of its 1-10V output, making the LED lamps keep an amount of light desired by the customer. With this new function the device can be installed with any type of LED lamp, achieving for example all luminaries switched on when dimmed at a minimum level. With this new configuration, the luminaries will be switched on and at a light level predefined by the installer.
On the other hand, an standard switch can be wired to an auxiliary input in the device which allows the user to create a lighting scene, fixing a constant light level to recreate an scenario when the switch is turned to on. This light level can also be configured with a level for every zone. But the same input can also be configured as a pushbutton and then a dimming level can be adjusted for the user, making the device very flexible for any installation.